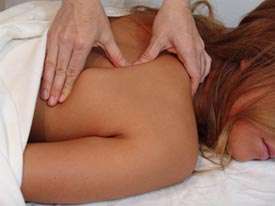 Thank you for visiting my website and my goal here is to show you an alternative method to reduce swelling and to increase circulation to promote the flow of healing nutrients and immune system factors which are beneficial to wound healing in general.
I have over 20 years experience as a massage therapist. I specialize in advanced therapies such as neuromuscular therapy (NMT) (trigger point work), lymphatic drainage, sports and myofascial release in addition to standard therapies like Swedish and reflexology. I offer home therapy, training for home health care and chirapractic.
I have worked with hundreds of athletes and in chiropractic and medical offices. I am affiliated with CNS, one of the top 10 hospitals in the country, doing hospice and home health care services with cancer patients.
Medical Massage in St. Louis
I am often asked "what is medical massage?" To learn more about what I do and the modalities that I use in my practice, please click on the link below.